CWDF IGP 2019  |  Team Canada FCI 2019
General Info  | Schedule  | Support the event |  Judges  |  Tracking  |  Obedience  |  Protection  |  Participants  |  Accommodations  |  FCI 2019 Team Canada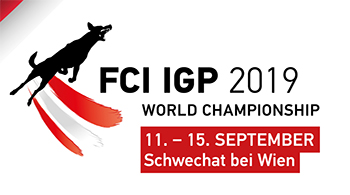 The 29th FCI IGP World Championship will take place on September 11-15, 2019 in Steyr, Austria.
The top six (5 + 1 reserve) eligible dog-handler teams at the CWDF IGP Nationals, with a minimum score of 80 in each phase, will earn positions on the Canadian Team for the 2019 FCI IGP World Championship. 
Ties will be broken by high protection score, then high obedience score. Should one of these top six handlers reject or be ineligible for their position, the position(s) will be filled by the next highest score eligible dog-handler team. 
To participate in the FCI IGP World Championship, dogs must be registered with their National Kennel Club for a minimum of 6 months at the time of the event.

The application form for FCI IGP 2019 Team Canada can be found here: https://form.jotform.com/DogSportForms/FCI-IGP-2019-team-canada

Event website: http://www.fci-ipowm2019.at